:: Rafferty Lab ::
community ecology of plants and pollinators in a changing climate
Welcome to the Rafferty Lab in the Department of Evolution, Ecology, and Organismal Biology at the University of California, Riverside. Research in the lab spans the fields of community ecology, population biology, and global change.
We use experimental manipulations, long-term and historical data, and observations of natural variation to investigate the effects of climate change-induced temporal and spatial shifts on species interactions. In particular, we study how shifts in phenology and distribution affect plants, pollinators, and their interactions.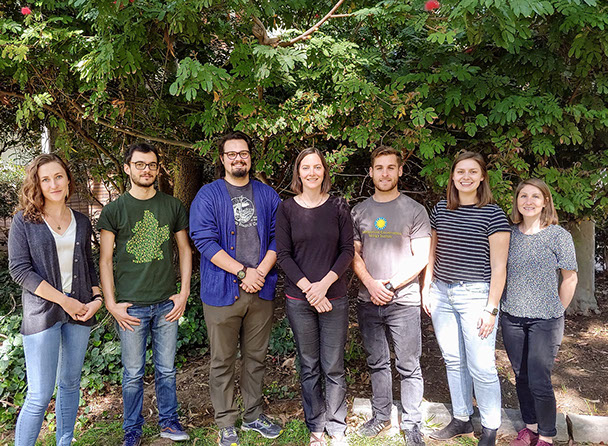 The lab group in March 2020
"Meet the Mutualists"! Follow the link to check out a recent video made by the lab group for the virtual version of the Riverside Insect Fair.
Three weeks in a row of great news: Congratulations to Chris, Annika, and Elijah on advancing to candidacy this spring, one week after another!
Congrats to Elijah for winning first place in the 2021 EcoSlam at UCR! Elijah was also recently awarded a grant from the Shipley Skinner Reserve to study carpenter bees.
Andrea passed her oral qualifying exam in January and is now a Ph.D. Candidate!
Nicole was named a Hellman Fellow for 2020-2021. Many thanks to the Hellman Fellows Fund and UCR for the support.
Congratulations to Annika, who was awarded a research grant from the Shipley Skinner Reserve to study interactions among mycorrhizal fungi, plants, and pollinators!